Get in the fast lane with burrs with ALLROUND cut
Don't let challenging applications slow you down. The innovative ALLROUND cut makes you a pro on any terrain.
Whether it's steel, stainless steel (INOX), cast iron or non-ferrous metals - the ALLROUND makes sure you get off to a flying start on all key materials. Move into the fast lane with PFERD burrs with ALLROUND cut.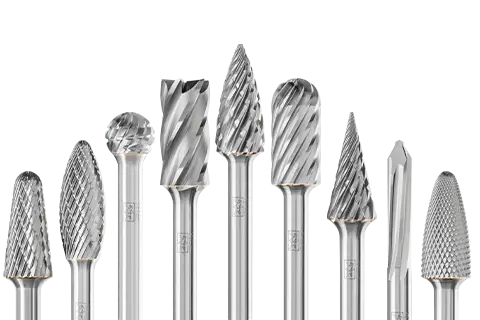 One cut, all materials
With the innovative ALLROUND cut, PFERD has developed unique burrs for a wide range of uses on key materials such as steel and cast steel, stainless steel (INOX), non-ferrous metals and cast iron.
Find out more now
Applications:
Milling out / deburring

Smoothing / surface work

Work on weld seams
Materials:
Steel, cast steel

Stainless steel (INOX)

Non-ferrous metals
Advantages:
High stock removal rate

Cost and time savings

Reduced vibration and less noise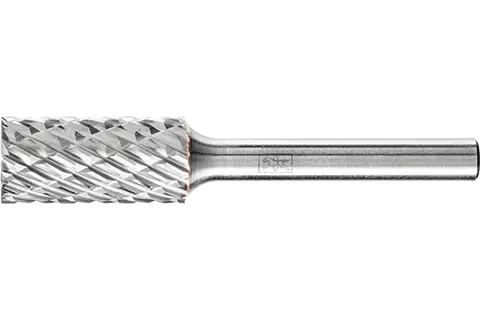 Cylindrical shape ZYAS in compliance with DIN 8032.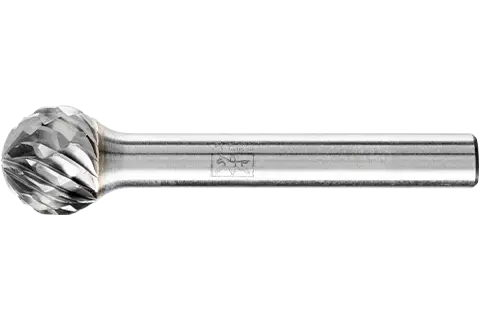 Ball shape KUD in compliance with DIN 8032.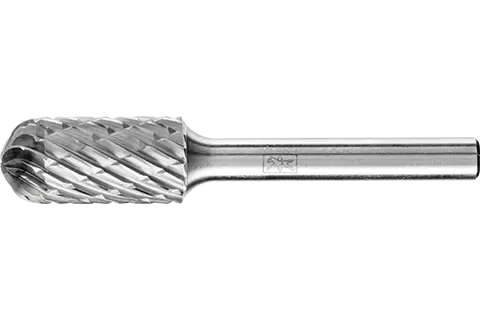 Cylindrical burr with radius end in compliance with DIN 8032.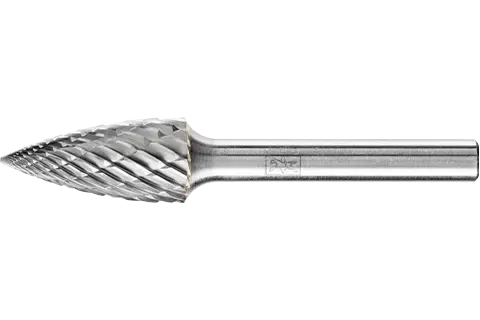 Pointed tree shape SPG in compliance with DIN 8032.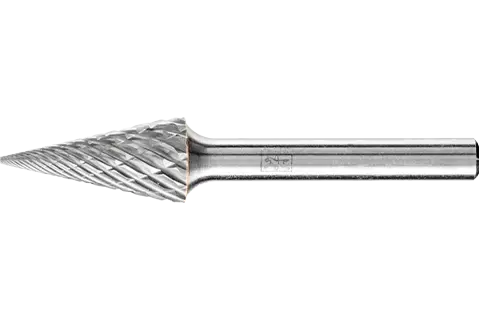 Conical pointed shape SKM in compliance with DIN 8032.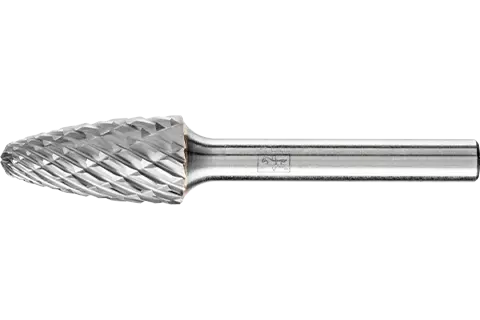 Tree shape with radius end in compliance with DIN 8032.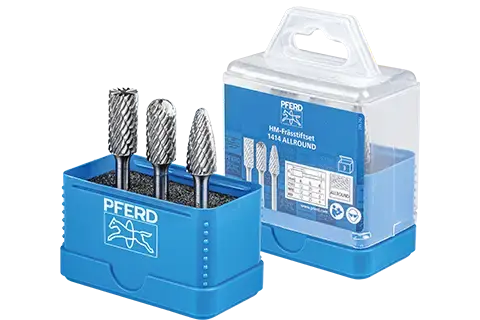 Burrs with ALLROUND cut in application-specific sets.
Burrs with ALLROUND cut
Tungsten carbide burrs with ALLROUND cut are suitable for a huge range of applications across numerous sectors.
Top marks from users
More than 1000 users* located right across Europe have tested our tungsten carbide burrs and can verify that ALLROUND is clearly superior to conventional cross cuts.
Experience ALLROUND in action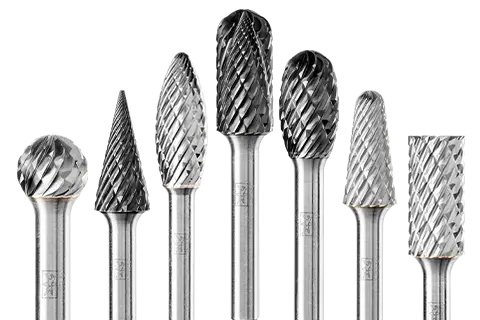 ALLROUNDER or expert?
Are you familiar with our material-specific tungsten carbide burrs? Our stable also includes a specialist solution for long-chipping, lubricating or hard materials.
All TC burrs
PFERD by your side
Optimise your milling applications with monster performance from PFERD! Our sales representatives and technical customer advisors can answer any questions.
What Europe says about ALLROUND
The burrs were recommended to me. I'm really satisfied.
-Mercedes W.
Much faster and quieter and great workmanship.
-Tristan B.
They [the burrs] are very durable and keep on going, even on hard materials.
- Marcel M.
The burrs last longer
than the tools we would otherwise use.
- Davide D.
They run very smoothly when machining. The lower vibrations are really great, you can definitely notice it.
- Hannes V.
I've improved my work.
-Xavier J.
It's great that you can guide it so smoothly. Very precise despite the high stock removal.
-Kai M.
PFERD community
Discover the benefits of the ALLROUND cut for yourself and become part of the PFERD community.
PFERD newsletter subscription
Subscribe to our free PFERD newsletter here to get regular updates about the latest products, services and offers from the PFERD world.